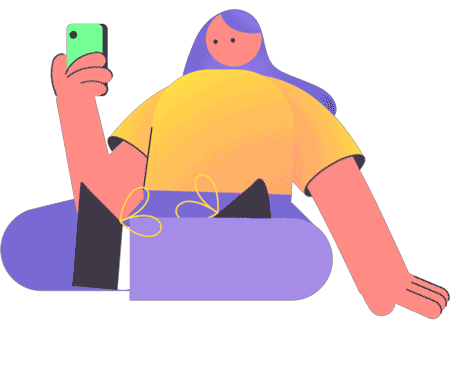 What's up!
It's time to get to know each other. If you're curious, would like to collaborate, hire us or simply share ideas, we like to chat and we're always up for a coffee.
Q&A
What information do I need to provide to get an accurate quote?
The ideal is to provide us with a detailed brief but we can certainly start with some information in an email. Here is a good starting point: nature of the project, type of content, type of distribution, the audience, the duration of the video(s), the number of languages, what is provided by the client (texts, content , visuals), desired graphic style, with or without characters and an idea of ​​deadlines.
It is important to know that character animation requires more design and production time. An effective way to get a quick price idea is to give us a project reference. It allows us to manage expectations and assess the value of the production by giving a ball-park price based on a concrete example.See our projects
There is no fixed price list since our quotes are generally project based and not time based. Working with businesses large and small, our quotes reflect the work that needs to be done, but also the project management needed, depending on the size of your business. Typically, the budget for a small project starts at around $5,000.
How long does it take to do a project?
The production of a 60 second animation project usually takes 4 to 6 weeks, from brief to delivery. Sometimes we do it faster, depending on the situation, but it is not recommended for our health 🙂 The ideal is to contact us a few months in advance.
It all starts with a discussion to get to know each other and learn more about your project. You don't have a detailed brief? No problem, we will ask you all the necessary questions to know your needs.
We then work on the content, the script and the scenario while we build moodboards to align the art direction.
The production of the storyboard follows with quick sketches. It's not the most beautiful drawings but it's quite effective to explain the concept. Once the storyboard and the art direction have been approved, we move on to illustration to create each of the scenes before starting the animation.
Then we animate, we find the voice talent for voice over, we share music options and we collaborate from V1 to V5_final_final_revision2 😉
Throughout the process, we use collaborative platforms to facilitate exchanges and feedback such as Boords.com and Frame.io.
What does your team look like?
Our core is made up of a creative director/producer, a 3D animator designer and 2 illustrators/animators. Meet the team.
But since we are a small team, we sometimes wear several hats and share tasks. Mutual aid and collaboration is at the heart of our philosophy. Added to the team is a vast network of freelance talents in constant growth. There are some with whom we have been collaborating for more than 12 years! Most of the time they are senior illustrators and 2D animators to help us stand out and create unique projects.
What candidate are you looking for?
We are constantly looking for candidates to expand the core of Bifurk and our network of freelancers. After Effects 2D animation, After Effects character animation, cell (frame by frame) animation, illustration, art direction and customer service. We are currently looking for senior candidates to expand the internal team and help us stand out and grow the company.
1 x Senior animator specialized in character animation.
1 x Studio Manager (team and project management).
Bifurk comes from the word bifurcate, which means "to change direction". This name was thought up more than twenty years ago, before company names with the letter K were overused. But the meaning of the name is still valid and still drives us today. We challenge ourselves with each project, we explore all possible avenues and strive to think outside the box. We do not win all our battles but the process pushes us to surpass ourselves, to have fun at each stage of creation and production. It often allows us to find solutions that we did not think of at the beginning and to surprise ourselves again.
Bifurk was founded in Montreal in 2004 by Gabriel Lebeau and Etienne Vigneault, shortly after leaving school in Graphic Design and at the same time as the arrival of the wonderful world of Computer Graphics. After beginnings in branding and graphic design, the web caught their attention to quickly focus on Flash animation (with the famous FWAs) then branch off into motion design with After Effects. Although Bifurk now specializes in motion design, design is still at the heart of the projects and the process. It is curiosity and the desire to innovate that has shaped the course and continues to pave the way.
What is your favorite video game?
Mario Kart 64 is certainly Gabriel and Etienne's favorite game even though it has been the source of a fierce rivalry for more than 20 years. Retro games and classics are always appreciated too. Maybe out of nostalgia?
Speaking of oldschool, Marilou's favorite game is Spyro.